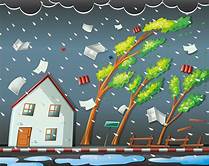 It's hurricane season. We've recently watched a new tragic storm hit Haiti. My thoughts and prayers are with the people of that small island, especially now as I await a potential big storm to hit my own island home.
Thirty years ago this weekend, my island was ravaged by Hurricane Bob, with winds of over 115 miles per hour. This weekend, thirty years later almost to the day, we are watching out for the possibility of another storm hitting us. This one has the less homey name of Henri, and it will likely be less violent than its predecessor. But you never know. So today, we are all preparing so that tomorrow we can sit and wait.
Boats are out of the water. Groceries are flying off supermarket shelves. Outdoor furniture is hiding in basements and snuggled into corners. Some tubs stand full of water. Some kitchen floors are lined with bottled water instead. Those houses close to the ocean are taped and boarded up. And plenty of people have already high-tailed it off-island. These are the things we do as we try to prepare ourselves for what we know may happen, and hope doesn't.
After nearly six months of dealing with cancer and surgeries, I suppose I can be forgiven for seeing parallels between this tumultuous weather and my own turbulent health. It has now been two weeks since my second operation. The first one was much bigger and more dangerous, a real hold-onto-your-hats leap into the unknown. By all comparisons, this one was a doddle and so I went into it with some knowledge of what I might expect afterwards. In the week before the surgery, I made all my preparations. I completed some important work tasks. I bought all sorts of supplies, just in case. I lined my kitchen with water bottles and bought special groceries. I did my research and readied myself for what might come. It made sense, in the way that preparing for a hurricane makes sense. But really, it was all a feeble attempt, once again, to control the uncontrollable. Maybe I'll use all those preparations. Or maybe I'll just throw them away.
Now that I am in the midst of this latest health storm ( to carry the metaphor, perhaps, a bit too far). I still have no idea how bad this will be or how long it will last. Each day is different. I find myself struggling to find words to describe what I am experiencing so that I can make the doctor understand. No two storms are alike, and even if everything that happens to me now is to be expected, I still don't want my sensations to be downgraded to minor turbulence. None of us wants that. Feeling somehow different and special is one of the tricks that we play on ourselves to help us get through our own personal storms. Our own storms are unique, difficult in their own way. None of our challenging experiences can, or should, be downgraded to some lesser tragedy. But while we are in the midst of it, all any of us can do is wait it out, and trust that our own trifling preparations will see us through.