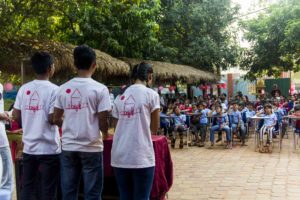 Every Writing Through workshop is special, but for me personally, the one that I facilitate at Anjali House is a highlight of my year. After all, what has become an international NGO began as my Anjali House creative writing workshop seven years ago. I ran this, this past week. The schedule of who goes to public school when (public school in Cambodia is still only half a day) means that I run two sessions. That in itself is rather full on, as it means I teach 4 hours a day, plus oversee the typing of their work, the creation of the magazine and the preparation of the Big Event. But this week was especially busy because I was also wearing my 'second hat', that of Anjali House Board member. Most of the members of the Board were in Siem Reap this week and that meant additional meetings and socialising. All great, but a bit tiring.
This year was also special because our Big Event — the place where the students get up and present themselves and their work, in English, before an audience — was the 'first act' of Anjali House's first Open School Day. The goal was to bring parents to Anjali House, let them see what their kids do there, and in that way, get them more involved, not only with the school, but with their children's lives. The hope is that, in this way, the parents will have a better sense of the importance of education, and will stop seeing their kids simply as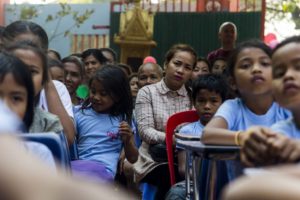 money makers. We were all thrilled to see so many parents actually at the event. But I was especially thrilled to see their kids sharing the magazine with them, and them 'reading' it. Remember, most of these parents have had little or no education at all, and certainly, can't speak or read English.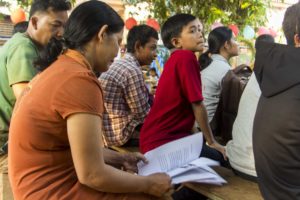 Working with these students continues to be completely energising. This year, I brought to them the theme of Bridges. These kids live in a city full of them, but they also come from incredible poverty, dysfunctional families and an ill-serving educational system, which means that thinking about other types of bridges other than the ones that cross rivers was completely new to them. This sort of metaphorical and conceptual thinking goes to the heart of what Writing Through is all about. I would only bring a theme as metaphorical as this one to Anjali House, though. Because I have been working with these students for three or four years, their writing and thinking skills are more advanced. I knew they could do it. But to say I was't disappointed would be a huge understatement. Actually, I was totally blown away by the work they accomplished this week. The magazine itself is beautiful and full of photos taken by Anjali students over the years. But, of course, the poems and stories are what this is really about. I wish I could include them all — but there are over 50 pages of them! Instead, I'll show you one of their poems:
Bridge of Light
By Reatrey, Age 14
 
 The sky is high, you see the
bird in the sky, it flies

higher and higher.

Did you feel the pain?
Don't give up, look up
into the sky and walk
forwards.
 
Your life is important.
Your smile can connect
your relationship, your friends
can work together, sharing experiences.
 
Learn from each other, knowing each other,
sharing with each other, loving each other. It is
your bridge of light.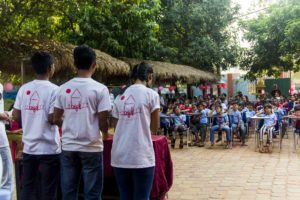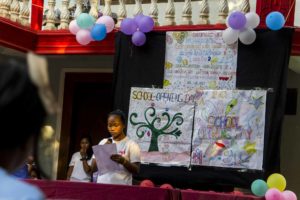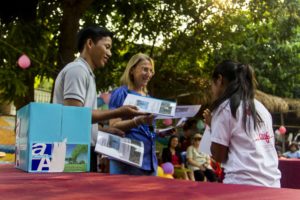 Please note, these photos were all taken by one of the Anjali House alumni, Roun Ry, a talented photographer who is now making a good living working at a travel agency and as a professional photographer. You can see a more representative selection of his beautiful work on his website here.