It always feels a bit weird tooting my own horn, but I have just come back from a whirlwind 2 weeks in the States where I had a lot to celebrate. First, was the wedding of my elder son to his long-term girlfriend. We couldn't be happier about this, and we're thrilled that Clare is now officially part of the family.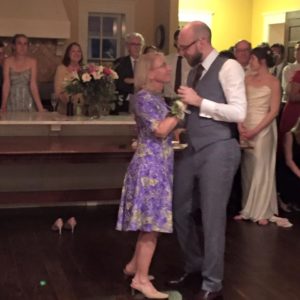 That's, obviously, me dancing with my son, and the beautiful bride is in the background.
And if that wasn't enough, four days after this, I found myself on the campus of Cedar Crest College in Pennsylvania, being one of five educators and writers honoured by Judith's Reading Room in their annual Freedom Through Literacy Awards. I suppose there are people on this earth who receive lots of awards and get used to it. But to be honest, I never receive awards and this was a really great thrill. Judith's Reading Room is an NGO which creates libraries around the world and supports international efforts towards increasing literacy. As they say on their website:
It takes many voices to champion literacy and create a love of reading and learning. Judith's Reading Rooms Award Winners are individuals taking charge in the fight against illiteracy.

As many know, quite by accident I find myself combining my own writing with teaching, and I am lucky enough to have the support of my family to have the freedom to travel around the world bringing the message that literacy leads to increased conceptual thinking, which leads to increased self-esteem, which is a powerful antidote to poverty and corruption. That is what Writing Through does in its workshops. As a novelist and poet myself, it is a privilege to be able to use my skills to encourage others and better, in some small way, their own lives. To be honoured for doing that, is really unbelievable and very humbling and exciting.