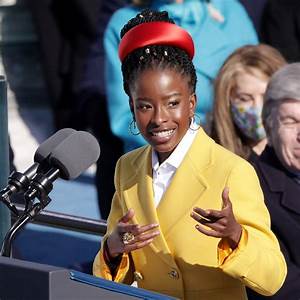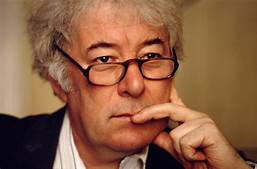 Amanda Gorman
Inauguration Day was an extraordinary day of change and hope in the United States. It was a day filled with emotions, dreams and words……many, many words, and so many of them arrived as poetry. Within minutes of Amanda Gorman's amazing delivery of her poem, The Hill We Climb, paragraphs had already been written praising her achievement. The poem itself is filled with beauty and wisdom. Her delivery was exquisitely polished. And her youth made it all the more astonishing.
For there is always light,
If only we're brave enough to see it
If only we're brave enough to be it
But Gorman's poem was not the only poem recited. Seamus Heaney's words also wove through the proceedings. His poem, The Cure at Troy,  is one of the President's favorites, and is one he quotes frequently. We heard those words both during the day and during the evening's Celebration of America program, in a recitation where President Biden's own delivery overlapped with that of Lin-Manuel Miranda (through the wonders of technology). It was another extraordinary poetic performance.
History says, Don't hope
on this side of the grave.
But then, once in a lifetime
the longed for tidal wave
of justice can rise up,
and hope and history rhyme.
But why so much poetry? Why do we rely on an art form that so many of us claim we don't like, we don't understand, we could never do ourselves, we always hated in school? Have you ever tried answering someone's question, 'And what do you do?' with the answer, 'I'm a poet'? The eye rolling! The looks of pity! The intimations of hubris! If poetry makes us all so uncomfortable, why do we rely on it as much as we do?
In my work with Writing Through, I am required to define poetry, and to do so in a way that invites, rather than pushes away. I tell my students, children and adults alike, that for me — note the emphasis on for me – a poem is a way to capture a moment or a feeling. It is like a photograph in words. Everyone has taken a photograph. Too few of us have written poems.  But linking the two art forms in this explanation seems to open doors, to make sense.
The poems recited at President Biden's Inauguration were like photographs of emotions, in words. In times of intensity, in times when we feel overwhelmed by an experience or a feeling, we turn to poetry to help us understand what we are experiencing and what it means. What is this feeling and how can I explain it to myself and others? Poetry is the language of the heart. When our hearts are bursting, it is the best way we have of taming the wildness of our feelings so that we can use them to better ourselves.
Why so much poetry? Because we would be , literally, lost without it.