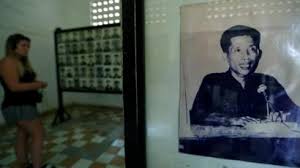 It was reported that Kaing Guk Eav, otherwise known as Duch, died today. He had been the Chief of the notorious Tuol Sleng Prison and had personally overseen the torture and deaths of thousands of Cambodian citizens. It took nearly 50 years for a combination of Cambodian and United Nations judges to create the tribunal that finally brought him and three of his colleagues to justice. I tried to capture the importance of the establishment of that tribunal in my novel, A Clash of Innocents. Over the years between its inception and today's announcement, the Tribunal was often handcuffed by legal and bureaucratic problems. Some say that its existence was more symbolic than anything else. Certainly, today's announcement can be seen in the same way.
Cambodia, a country which I have come to know and love over the past fifteen years, is still a very troubled and complex place. I pray that the death of Duch will bring some peace and closure to the thousands of families affected by his mania.
Read more about him in this New York Times obituary .