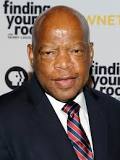 The United States lost a hero and patriot this past week, John Lewis. He wasn't world famous, and outside of the US, his name wasn't a household word. I'm sure that when many of my British readers hear John Lewis, they think of the department store chain, rather than the man who worked tirelessly for more than 40 years to gain recognition and rights for his people, his constituents, and for all. That's why I decided to write about him this week, as a reminder to those of us who have lived under the shade of his umbrella, and for those who may not have been aware that he even existed. Isn't it often the case that the people who make the biggest impact do so one step behind their more famous colleagues? John Lewis was far from quiet. His actions spoke as loudly as his words. And yet, when people think about the fight for racial equality in America, his name is not the first one to come to mind.
John Lewis was often called the conscience of the US Congress. Born in 1940 in Alabama, he was raised on his family farm and attended segregated schools. But there was a spark in him that could not be denied. His personal moral compass was true, and his sense of justice led him to take courageous, often dangerous stands. By the mid-60's, he was one of the leaders of the Civil Rights Movement, and at the young age of 23 he organized and was the Keynote Speaker at 1963's March on Washington. Despite being attacked and arrested 40 times for his activism, he remained a staunch believer in civil disobedience and non-violence. He was there at the forefront of the march across the Pettus Bridge in Selma, Alabama; a day which became known as Bloody Sunday. In 1986, he was elected to Congress for the first time, where he continued to serve for decades.
Indeed, his actions always spoke clearly, but his words also always resonated, especially recently as the Black Lives Matter movement has taken hold. John Lewis was always a beacon of hope, regardless of the depth of the darkness. During this time in America where we are viewed by the world as far from our best selves, John Lewis reminds us that this country, despite its faults, can still produce citizens of brilliance and integrity. As he said:
Do not get lost in a sea of despair. Be hopeful, be optimistic. Our struggle is not the struggle of a day, a week, a month, or a year, it is the struggle of a lifetime. Never, ever be afraid to make some noise and get in good trouble, necessary trouble.
I love this quote of his and I, like so many millions across the world, am grateful for his service to us all, and pray for his peaceful rest.