I have a dear friend who has many wonderful qualities. She is funny, generous, kind and sensible. But she is also a voracious reader, and a reader who knows what she likes, makes informed and solid opinions, and is happy to share her discoveries. I'm very lucky to have her. A short while ago she told me about an author who she had recently discovered although he had been around and celebrated for a while: Brian Doyle.
I had never heard of him, either. Brian Doyle was an editor and novelist, but I entered his world via one of his collections of essays called Reading in Bed. Within two pages I was already smiling, laughing, mesmerized by his voice, his wisdom and his humor. Not to mention his craftsmanship. Doyle had the ability to guide you through a page-long sentence, never losing you among the weeds, and always keeping you pointed towards the final period even as you get caught up in his brilliant digressions. I don't often read essays in book form, but I couldn't put this one down, and now I'm eager to read the rest of what he has left us. Alas, he died too young, in 2017, at the age of 61. How had I never heard of him before?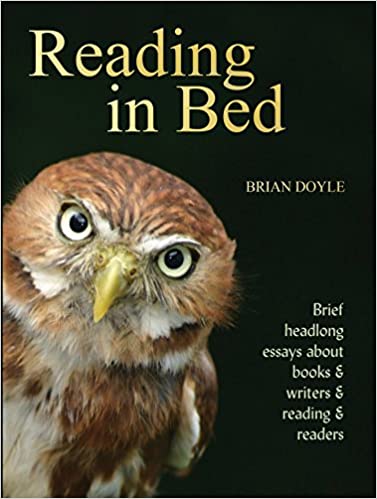 The good news is that I know about him now and I have a list of novels and essays to explore. Discovering a new writer who you love is always a joy and one that doesn't happen very often. I am grateful to my friend who found him for me, and I am happy to pass the good news along to you now.