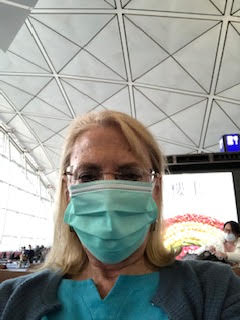 Back in February of this year, I was en route to my annual 2-month stay in Cambodia to work with my team at Writing Through. It is a part of the year which I always anticipate with great excitement, not only because it allows me to take part, in person, in the work I started five years ago, helping the marginalized to develop their thinking skills and find their voices through creative writing. But it is also the time I am able to live for a while in a country I have grown to love, and a culture I find endlessly fascinating. Over the past few years, though, this has also become a time which I anticipate with nervousness. Cambodia is on the other side of the planet, and two years ago I needed to rush back to spend a few last hours with my dying father. What will happen this year? Will I make it through my entire trip to return to a family that is still fine and healthy? Because of a lack of global understanding about what was then a new illness somewhere in China, and perhaps because I needed to believe everything would be alright, at least for 2 months, I joked here about wearing an unnecessary mask during my transit time in the Hong Kong airport. I rolled my eyes at what I believed was mass hysteria in a world which I already felt had seriously lost its way. "This too shall pass," I said. "Take a deep breath, and take off the mask."
`it is now March 18 and I am back home, two weeks earlier than anticipated. My family is fine, thank goodness, but behind doors which I can not enter. My husband and I are in self-quarantine, doing our civic duty to stay away from everyone even though we ourselves feel fine. And I do feel fine, physically, but emotionally? Not so much. Cambodia was calm. Perhaps it was calm because no one was telling us the truth about the implications of the disease there, other than the obvious devastation it was inflicting on the economy and the tourism industry. But I felt calm nonetheless. Yet we decided to leave early, not because we felt we were at risk. We came back because we couldn't trust that we could get back home if we waited any longer. And so although I was sad to leave my friends, my work and my adopted home, I was fine. And then I landed in New York.
There was an eery calm at JFK Airport. On the way we had heard that there was bedlam in the passport control areas in airports around the country. People were supposedly waiting up to 8 hours to get through. But when we arrived, all was quiet. The Immigration officer asked where we were coming from, asked how we felt, and then waved us on. In all my years of flying I had never made it through immigration so quickly. It was good news for me, after almost 20 hours of travel. But I'm not sure it was such good news for New York. But then driving through the empty streets of Manhattan to our hotel for the night, listening to the news which was getting more and more dire, I felt as if I had been hit in the stomach. Arriving in the US felt like jetting into a war zone. I became frightened and anxious for the first time since the virus appeared on the planet months earlier. Three days later, safely at home, I am still struggling to control this sense of apocalyptic dread.
I hear my father's voice in my head. We used to teasingly call him 'The Commander' because he always needed to be in control. That is what he would, in fact, always say whenever any problem arose: 'It's under control.' As an adult, that used to infuriate me. But as a child, it was exactly what I needed to hear. He understood that and I now realize that his constantly saying 'It's under control' was his way of keeping his three little girls safe in a world which he understood was not really a safe place at all. I wish he was here to say it to me now, even though I would know it wasn't true. And I wish I could say it in all honesty to my own adult children, or that they could say it to me. But in my lifetime at least, I know that none of us have ever been in less control than we are now.
Luckily, there is another paternal voice which continues to help maintain some perspective, and that is Dan Rather, the news anchor from my youth, a constant steady voice of calm. He also found himself recently hearing his father's voice in his head and holding on to those words which comforted him so much as a child. Here is a quote from his recent post:
In my early years I was stricken with rheumatic fever. I can remember hearing my mother crying when she thought she was beyond earshot. I sometimes whimpered at the injustice of my fate, and my father would come into my room to stand over me, lovingly but firmly. "Steady, Danny," he would say. "Steady." The words were clear and deliberate, and they were soothing.
Steady has become an unofficial mantra in my life. Those who know me well have heard it often. I can still hear the word in my dad's voice. And I hear it once more today.
It is time to reach back for the soothing voices from our pasts. Let them guide us through these dangerous times.