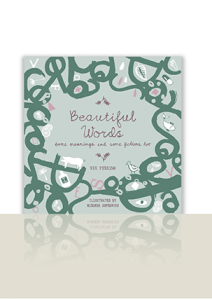 Nik Perring is an incredibly creative and innovative writer whose work I've been following for years now. I first wrote about him here when I discussed his collection of short stories called Not So Perfect. At that time I wrote:
Not So Perfect is a masterclass in flash fiction. Each story is a small gem and I found myself sitting and staring into space in amazement after each one.
Well, now it has happened again as I read his latest collection, Beautiful Words. This collection is actually the first in a trilogy of small, perfectly crafted books which will  be published throughout the year. In this first work, Nik uses the alphabet as a springboard to illuminating 26 words, and I say illuminating because that is exactly what is done within these pages. Besides Nik's prose, each page is illustrated by Miranda Sofroniou with drawings that are as beautiful as they are quirky and funny. But this is much more than just a lovely alphabet book. From each word grows a story and, when taken together, the stories create an overarching narrative. You get to know characters, their loves and disappointments. Although the entire book can be read in twenty minutes, each page presents you with a gem and you are left feeling as if you have started to know characters whom you long to know further.
Beautiful Words is a beautiful book which would make a lovely gift. But why give it to someone else when you can keep it and enjoy it over and over again yourself?
Beautiful Words and the subsequent books in Perring's Beautiful series is published and available through Roast Books.