This was a big weekend in tourist town. First, there was the By Royal Invitation Only premiere of Angelina Jolie's new film, First They Killed My Father. Surprisingly, we were not invited. Supposedly, this will soon be on general release throughout Cambodia and I'll be able to see it in the (hopefully) air conditioned comfort of a cinema. I'll report back about that.
But otherwise, Saturday night was the Giant Puppet Festival. I've written about this before. It is an evening when a collection of NGO's parade throughout town holding the puppets that move, light up, wink and twinkle. There is drumming by the Scouts, song and dance, and the entire town lines the streets to watch. Definitely, a highlight of the year!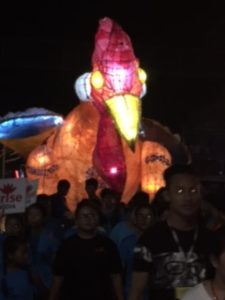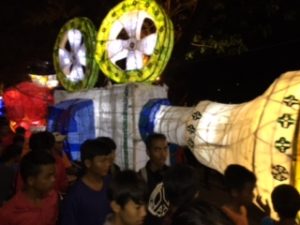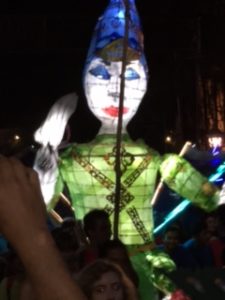 Then, to recuperate from the excitement of the evening, we decided to take a drive out into the countryside on Sunday afternoon. We hopped into a tuk tuk and headed off. We weren't sure where we were going, but I thought I had heard mention of the Baray. I have written about this here back in 2013, but the route we took looked nothing like I'd seen before. We drove, and got lost, for over an hour, sometimes travelling through wastelands of thatched huts and dusty roads, other times through lush groves and rice fields. We didn't care. It was just great to be out of the city and into the Cambodian countryside, which is now looking both familiar and fascinating to me at the same time. All along the way, little kids playing along the street would wave and shout hello and chase after us. If we were the big excitement of their day, then that shows how little is going on in their lives! But finally, our driver turned back and shouted to us, There! Water!
A baray is a man -made reservoir, and the two main ones in this area, the Eastern Baray and the Western Baray, date back to the times of the Angkor Civilisation. They were dug most probably to provide water and irrigation for the surrounding villages. The Eastern one was built in 900 AD, but that one, now dry and used as fields for farming, was deemed to be not big enough to serve the kingdom's needs, so the Western Baray was built about 200 years later. Without realising it, when i was there a few years back, I visited a swimming area off to one side. What I saw then was nothing like what we saw as we turned down a dirt road and past a clearing.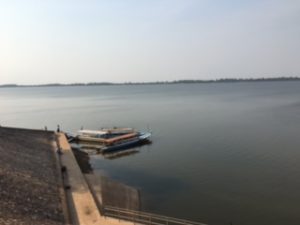 This lake was huge, like Lake Geneva or Lake Erie! You could barely see across it, but as we drove around the perimeter we found small areas for sunbathing and swimming, with rows of hammocks under thatched roofs, and the inevitable pop-up shops selling coconuts, mangoes, juices and snacks. Once again, whenever it seems I know about something in this country, it turns out there is much more to it than first meets the eye.